About Takaishi City
Location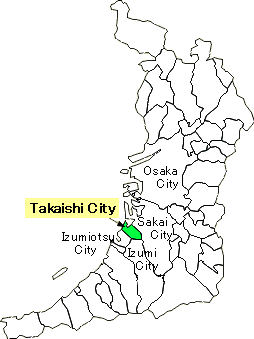 Takaishi City is strategically located in the southern part of Osaka Prefecture. To the north and east is Sakai City, and the cities of Izumi and Izumiotsu lie to the south. The west side of the city borders Osaka Bay. It is a compact city that stretches 6.1 km east-to-west and 4.1km north-to -south, with a total area of 11.35km
2
. Roads running from north to south are the prefectural road Sakai-Hannan Highway. National Route26, and Osaka-Wangan Highway. The Nankai Railways Main Line and JR Hanwa Line run through the city. Roads that run from east to west include the prefectural road Izumiotsu-Mihara Highway (Sakai-Senboku toll road) and Shinoda-Takaishi Highway. This transportation access, in combination with its proximity to Kansai International Airport (just over 20km), makes Takaishi a strategic location, with a growing role as a residential area.
Lots of Activities Together with our Friendship City Aridagawa-cho, Wakayama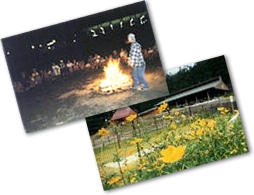 Previous friendship city,Shimizu town merged with kibi town and kanaya town on Jan.1st 2006. Therefore 3 different towns have become one which is Aridagawa town. After that, new friendship city treaty has concluded between our city and Aridagawa town on Nov.19th 2006, aiming for building up better goodwill. Aridagawa town is located in almost the center of Wakayama Prefecture. The size of this town is 351.77km
2
, which is about 30 times as big as our city. Arita River flows through central part of a town, and by the mountains topography there is a Koya‐Ryujin quasi-national park and an Oishi prefectural nature park, and a department of upper reaches is an area rich naturally that the beautiful forest and ravine develop. Plains be stretched in the down stream area, and the town area is formed. In addition to that, Buddhism culture prospers for a long time, and it is had a lot of valuable cultural assets which can stream down those days as a prayer way to hallowed ground Mt.Koya for ancient paths along Arita River.
この記事に関するお問い合わせ先
政策推進部 秘書課
〒592-8585
大阪府高石市加茂4丁目1番1号
電話:072-275-6078 ファックス番号:072-263-6116(代)